I love old postcards! Well really I LOVE old Texas postcards the best. I have framed postcards that are precious to me. Last week my dear friend was cleaning out a closet at her church and found some old Texas postcards. She knew I would love them. They arrived in the mail and I almost had to call in sick the next day because I was obsessing what I was going to craft with the cards. I really wanted to decoupage with the cards but they were too thick.
At this point the copy machine at Kinko's became helpful. I made copies of the post cards I wanted to use.
On the way home I stopped at Hobby Lobby for some Mod Podge.
Now all I needed was to find something to apply the postcards to.
I went to the junkiest garage in Texas and found the perfect thing.
I bought this big tin at a flea market in Waco, Texas about a year ago. It is large and heavy but I could never figure out what to do with it. I love the bottom but the top had serious issues.
I love how it turned out. I did not repaint the bottom. I decoupaged the copies of the postcards to the top. I like the vintage feel of it.
This maybe where it lives for awhile. This is a tea cart that I refinished awhile back. The suitcase fit on the bottom shelf perfectly. That was really important because when I got the cart the bottom shelf was missing and I made a shelf out of left over plywood. I did not want to paint the cart so the suitcase was a great solution. The suitcase and tin are now where I am storing old family pictures.
Where I am partying: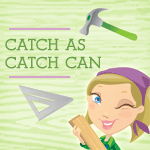 http://www.myrepurposedlife.com
/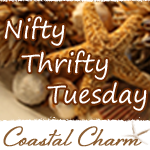 http://www.savvysouthernstyle.net/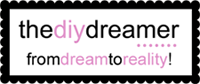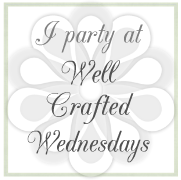 http://obse
s
http://www.commonground-do.com/
siveandcreative.blogspot.com/2013/09/wreath-holder.html