This is a bookshelf I found on trash day. It was homemade and probably storage from someone's garage.
The back they had put on the shelves was thick and uneven. I wanted to cover it with trim.
The front also needed some trim. I had four spindles and was too lazy to go to the store to buy trim. I used the spindles to trim out the edges. I glued and screwed the spindles to the edges to give it a cleaner look. The final step was to prime and paint it.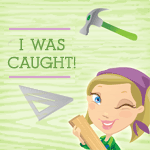 I was featured here this week (with another project). This is my favorite place to party on Thursdays. Check out
http://myrepurposedlife.com
http://www.glitterglueandpaint.com/throwback-thursday-5/