I have always loved the two toned look. My mom had a tan and brown colored blocked car coat (is that still a word?) when I was young and I loved the way it looked on her. I have been working on a repurposed table this week and I wanted to make it two toned. This is what it looked like as I meditated on how to paint it. I wanted it to be painted in two colors but I could not get the look I wanted. I finally painted it green and I love it. I think it would make a nice small potting table for a patio.
This table is made from an upside down drawer and four spindles for legs.
This picture was taken while I was still trying to paint it two toned!
Check out one of my favorite blogs!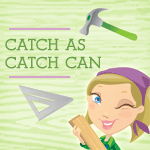 Another of my favorite blogs: