Not long ago someone called me to tell me they saw a table in the ditch near my house. When you love junk people start calling you to rescue it. I went to find it and it was in bad shape. The top was fiberboard and was standing in about three inches of water. The legs were dry and wooden.
When I got it home I realized the legs were in good shape but the top was a mess. Also there was a lot of duct tape on the bottom. The duct tape had not been holding the table together. My mind raced at what had been taped under the table. But alas this table is not talking. I decided the top could not be saved so off it came.
The base was sturdy and a great size and all it needed was a top. Off to the junky garage for that.
I found just the right cabinet door. I got it in Waco, Tx at the Restore for a dollar. It had just been waiting for these legs. A couple of screws, some paint and it will be a beauty.
Before I reveal the finished table I have to tell you my motivation. I was not painting this table for me or anyone else. I just painted it for fun. One of my dreams is to have a three story beach house and the third floor will be devoted to my grandchildren. Let me set the record straight I have no beach house and no grandchildren but a girl can dream. This open space will have red lacquered beds with all white bedspreads and a circle of big overstuffed chairs in the middle of the room so we and read and talk into the night. Imagine the chair below in red and white stripes.
So when I was painting this table I painted it for my imaginary beach house.
.
This is a cute little stool that I traded some signs for. I love it. The top needs some love but the base is fabulous.
I partied somewhere new this week: http://www.finecraftguild.com/ Make sure you check it out!
http://missmustardseed.com/2013/09/furniture-feature-friday-favorites-link-party-11/
http://minettesmaze.blogspot.com/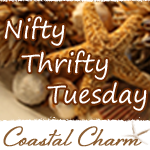 http://www.savvysouthernstyle.net/